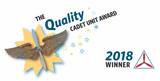 Welcome to the local Midway Composite Squadron's website.  If you want more general information about CAP, visit the Civil Air Patrol's website.
Come learn about our local squadron at our weekly meetings at the Midway Regional Airport. The airport is along Highway 287, between Waxahachie and Midlothian. We meet on Thursdays' from 6:45 pm till 9:00 pm.
---
Uniforms can be purchased from Vanguard Industries, the official supplier of CAP items.  You may request information from local squadron members regarding local businesses as well.
The Squadron Commander and the rest of the Senior Members are very helpful people; be sure to check with them about current uniform requirements.